Nashville
September 22, 2017

-

September 25, 2017
Event Navigation
THE HAWKS INVADE NASHVEGAS (NASHVILLE), SEPTEMBER 22ND – 25TH, 2017!!!
ONE OF THE GREATEST LOCATIONS FOR AN NFL WEEKEND YOU WILL EVER ENCOUNTER, AND UNFORTUNATELY, ONLY ONCE EVERY 8 YEARS!!!
Please allow me to explain Nashville to you! Yes, lots of country music, but also lots of Rock'n'Roll! The fact is, all of it is LIVE and I'm a big fan of live. Every place you go to has a band all the time and once at the bars, everything is within walking distance! The streets are 2nd & Broadway, and that is pretty much all you need to know other than Wild Horse which is right around the corner! Southern hospitality and great barbecue are everywhere, and you will enjoy some of the sites immensely!!
We will be staying at the Millennium Maxwell House Hotel. It is located only 3 miles from 2nd & Broadway, so you won't be missing anything!! PLUS, the hotel runs shuttle service to the bar areas all day and night! If you need a little more to describe this, just look at this photo: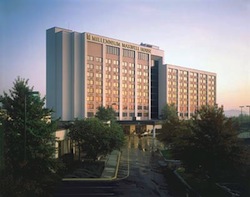 Friday night around 8 PM, we will head down to Broadway for the coolest live music bar crawl you guys have ever seen! Roberts, Legends, Layla's, Tootsie's, the Stage, and our friends at Bailey's Irish Pub!! All these bars are right next to each other, all on the same block!!
Saturday afternoon, if you want your football fix, we will have a Ticket & Tailgate package for the ALABAMA vs. VANDERBILT NCAA Football game!! More to come there!
Saturday night, we are heading to Music Row and our Pep Rally Party will be at the BRAND NEW HOPSMITH!! There will be plenty of specials to get all us Hawks fans FIRED UP!!
Sunday, of course, will see a true southern barbecue tailgate down at the stadium, the likes of what you expect to have while in "The South!"
Since we have a number of flights ranging in price from $450 to $650, what we will do here is show you our package prices WITHOUT AIR. After you sign up, we will send you all of our available flights in an email within 48hrs of your signup to let you choose your top 2 selections, then you will simply add that number to the package price!!
CHECK OUT THESE AWESOME PACKAGES:
3-NIGHT PACKAGE WITHOUT AIR (self-travel)
4 people in a room – $525 per person
3 people in a room – $565 per person
2 people in a room – $655 per person
Single package – $915
*additional room nights can be added on pre or post trip dates for $175 per night
THE COMPLETE PACKAGE INCLUDES:
Round-trip air from Seattle into Nashville (if flight options is selected)!!
3-nights accommodations at the Millennium Maxwell House Hotel!!
Charter bus service to and from all airports!! (IF YOU BOOKED FLIGHTS THROUGH US)
Drink specials and NO COVER at the Hawks Friday Night Bar Crawl!!
Drink specials and NO COVER at the Hawks Pep Rally Party at McFadden's Nashville!!
Complimentary shuttle service from the hotel to the downtown area nightlife11
The Hawks Tailgate with an excellent menu we are currently creating!!
Your game ticket to Seattle vs. Tennessee on September 24th, 2017!!
And of course…ALL OF YOUR FACE PAINT & TATTOOS!!
For more information about this trip, please contact Jason at jason@12thmantours.com at 480-287-4212. If you are sending a check, please make it payable to YARDLINE TICKETS and use the Memo "12th Man Tours Seattle" and mail it to:
5115 N Dysart Rd. #202-450
Litchfield Park, AZ 85340

PAYMENT SCHEDULE IS AS FOLLOWS:
A $250 deposit will be required to hold a reservation
50% of your remaining balance on or before July 1st
Final balance on or before August 31st
Any reservation after payment deadlines will require an amount equal to what is owed to that date
Prices below are listed per person.  Please enter the number of spots YOU ARE PAYING FOR below!